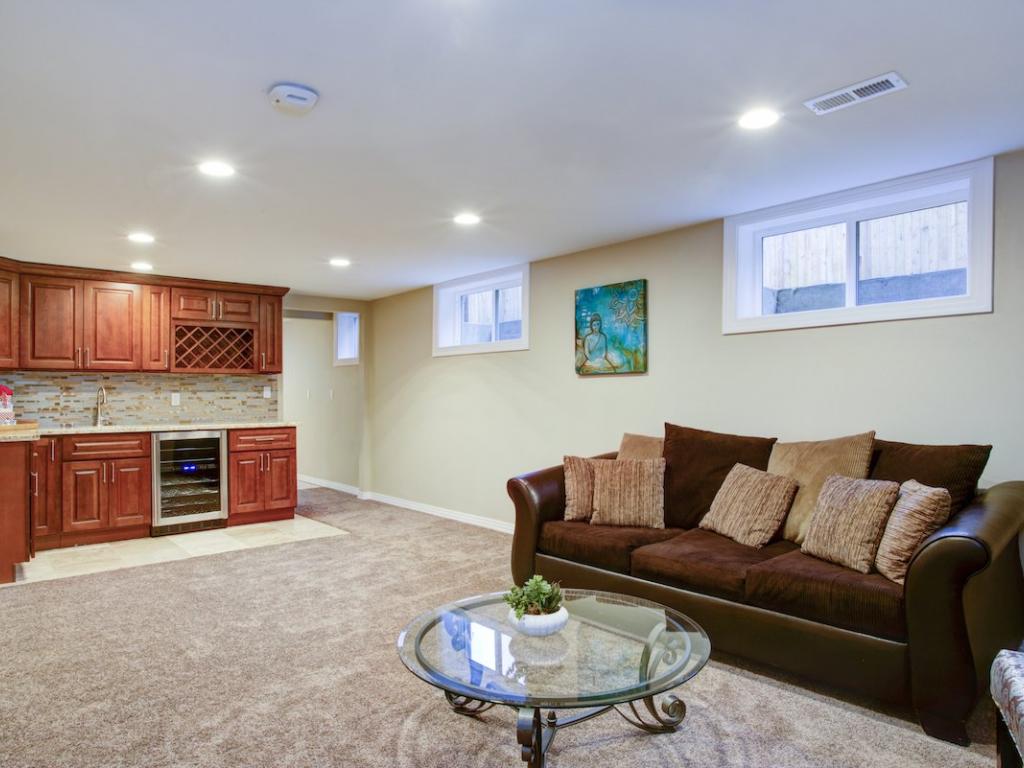 Many people look to finish their basement after they have addressed all the décor needs in the rest of their home. It is often used to store the work bench, laundry facilities and the furnace. You store stuff down there that doesn't have a home in the rest of the house. However, you can make the basement an extension of your entertainment or living space by renovating or finishing the basement. You have to create a checklist of tasks before you undertake any work.
First Decision
What do you want to do in the basement? Is it going to be divided into separate rooms for guests, office space or renting out? Is it going to be a place to entertain guests or have an in-house movie theatre? You want to have a clear idea of the purpose of the extra space you will get by finishing the space. Will you have a dual storage and living space? Make sure you sit down as a family and discuss what vision you have for the basement. Go through some home decorating sites or magazines for ideas. By making these decisions before you start, you will know what work has to be done.
Finances
Are your dreams bigger than your bank account? You will need to gather the costs and see what kind of budget you can commit to the project. Talk to others who have taken on this kind of project for an idea of any items they wished they had included. Talk to different contractors to get some solid ideas of the kind of costs and then add a little extra to cover for any unforeseen items. It's better to wait until you have the needed funds to do some basic work to your basement before finishing it with flooring or dry-wall or any other decorating items. Is your basement waterproofed for example? It would be a costly disaster to have omitted this important step before undertaking your renovation project. Water has a way of getting into the smallest crack and wreaking havoc.
State of Play
If you have a new home, your basement should be waterproofed and you can have that checked before you start any work. If your home is older, you may not even have a concrete floor in your basement or at least part of it may be a crawl space that needs to be sealed. A home of any age has the potential for water damage unless it has been properly waterproofed.
You can go down and have a look around yourself for any indications that water has been entering your basement. Obviously, if you see water or damp spots, there is a problem. If there are cracks, they will need to be repaired. If there are what looks like a white or yellowish stain on the floors or walls, it can be the result of moisture seeping through the concrete and the source of that moisture will need to be found. If you notice a musty smell, it can be the first signs of mildew or mold – both need to be removed safely. These kind of repairs should be undertaken by a professional waterproofing company. You should call a trusted company such as Benchmark Waterpoofing with more than 35 years of experience in the Toronto area.
Beyond Repairs
Once you have the professionals in to repair any cracks or other water problems in your basement you should discuss the benefits of sealing your basement either on the exterior walls of your basement or the interior. This step will ensure that water doesn't get into the basement in the future. There are budget considerations depending on which option you choose but the end result is the peace of mind that you will have a dry basement.
Head Space
Some older homes were built without allowing for enough space in the basement to move around comfortably. The basement was solely intended to include some plumbing and heating fixtures and maybe a small storage space. If you want to add rooms or move some fixtures around, you will need to have the basement underpinned. This step will allow you to increase the size of your basement by lowering the floor of the basement. There are several options that can be reviewed with your professionals from Benchmark.
Let there be light
Some basements include windows but being low to the ground they do not allow enough light into the basement. When you are inspecting your basement and deciding what you want to do down there, have a look to make sure the windows are in good shape. If there are cracks or damage to the window wells, you will want to have that addressed. No matter what you are likely to need to add some lighting options to your new space. Separate rooms will require electrical fixtures and if you add an entertainment centre you will need telecommunications lines as well.
Other basics
If you are going to create a space for laundry facilities, an added bathroom, or a bar don't forget the plumbing. You will need sinks, taps and perhaps another fridge or freezer. Make sure you have sufficient electrical power and outlets.
No cold feet
Basements, by nature are below the ground and often a cool space. In the summer, they can provide a cool retreat but in the winter, you may need extra heat to use the space comfortably. One idea is to have cables inset below your floors.
Building Codes
Before any work is done in your basement you should check with your municipality about the permits you require. Verify that the building codes are followed and that your contractors are aware of all the appropriate protections are put in place. For example, you will want smoke and carbon dioxide detectors installed.
You have a list and will need to check it twice to make sure you have considered all the items you want to have in your basement project. There are lots of options and depending on your budget, you can create a wonderful space in your basement. Just make sure you do the basic work of protecting that space by getting in the waterproofing specialists at Benchmark Waterproofing Inc.