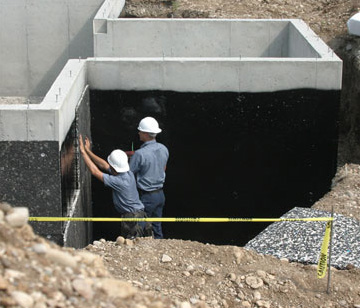 We are all learning how important it is to have a comfortable home to shelter us and keep us safe.  Maintenance of our homes has to be a top priority especially when we look at the basic infrastructure of a house – the foundation.  Keeping our basement dry protects the integrity of our homes.
Preventing unwanted water from entering your home should be your goal because a wet basement can lead to more problems than soggy boxes and water damaged furniture and flooring.  Along with crumbling masonry and rotting wooden window and door jambs, standing water can allow mould and mildew to grow which can affect your family's health.  
To protect your home's foundation you should invest in waterproofing the basement.  There are two systems to consider – either an interior process or and exterior process.  Both involve finding any cracks or sources of water entering your basement, conducting repairs, establishing new drainage systems and installing pumps where necessary.  Having an expert like Benchmark Waterproofing come in to provide a complete inspection is your first step.  They will discuss your options and make recommendations for the basement waterproofing process for your home.  
Keeping your basement dry will provide you with the peace of mind that you have taken all the steps to protect your home's foundation, giving your family a safe and comfortable place to live. Since 1982, Benchmark Waterproofing has served the community by waterproofing basements and keeping them dry!