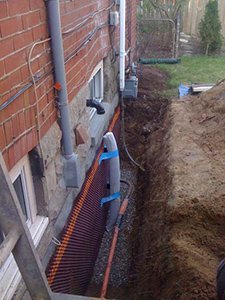 Weeping tiles are designed to be installed at the base of your foundation to draw water away to a storm sewer, a sump liner or dry well. Made of polyethylene resin, weeping tiles can be designed and shaped to the necessary size for your property. A weeping tile system is porous and installed underneath the foundation to divert water away from your home. The small slits in the tiles allow the water to be filtered, leaving the soil behind. Weeping tiles need to be properly installed and maintained to provide the best protection of your Toronto home. Benchmark Waterproofing can guarantee you will be satisfied with our weeping tile system and that your basement will be dry through the worst storms or flooding conditions. 
Building contractors need to have a safe workplace and a weeping tile system will draw water away and keep the soil around the site safe. A properly installed and maintained weeping tile system can also protect your Toronto home and its value on the real estate market. Home buyers contract house inspectors to thoroughly evaluate a property for any current or future problems. Having taken the steps to ensure water will be diverted away from your foundation, you reduce that worry for a potential buyer. 
All homes need to have the protection of a good weeping tile drainage system but if your home is on a low elevation, you want to make sure you have the right system to address the challenges of water seeping down to your property. 
The qualified and certified waterproofing technicians at Benchmark Waterproofing can advise you on the best weeping tile system for your Toronto home. Call today.